Español con los Alcántara
Do you want to learn Spanish with entertaining online lessons?
Learn Spanish with entertaining lessons based on a TV series! These online Spanish courses are based on different episodes of Cuéntame cómo pasó, a popular, prizewinning series from Televisión Española (TVE). The series is about a working-class family in Madrid and begins in the 1960s, a time of great social, political and cultural change in Spain.
Español con los Alcántara 1: «Un malentendido»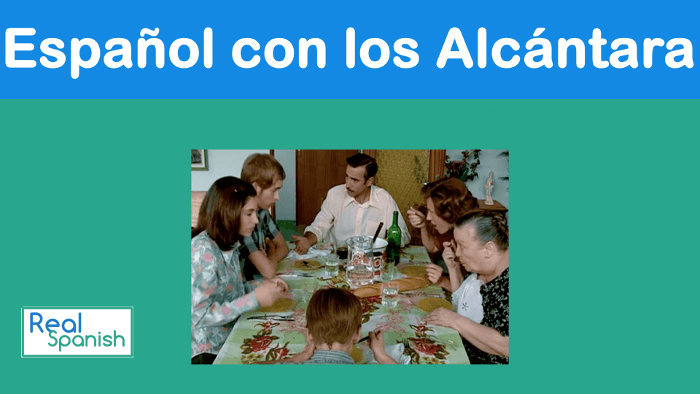 This course is based on the first episode of «Cuéntame cómo pasó». There are four lessons in this course:
Lección 1: La familia Alcántara y la España de los años sesenta
In this lesson you'll meet the Alcántara family. You'll also learn a lot about family relationships and the importance of the Catholic church in the 1960s. In the accompanying grammar notes we focus on common words that change their meaning according to gender: for example, «el frente» and «la frente».
Lección 2: «¿Dónde están las pastillas?»
Have you heard of the Eurovision Song Contest)? It began in 1956 and is still celebrated today. In the spring of 1968 everyone in Spain had high hopes for their chosen singer, Massiel. See how impatiently Inés is waiting to see the broadcast of the contest on the family's new TV. In the grammar notes we explain the use of «porque», «porqué», «por que» and «por qué».
Lección 3: «Me quedo estéril?»
As you know, Carlos is sick, and Inés is nervous for some reason. Now you'll find out why. You'll also meet don Vicente, the local doctor, who uses many interesting and useful expressions. You'll also learn something about verbs that express change, as well as some uses of the pronoun «se».
Lección 4: Lección 4: Las pastillas venenosas
In this lesson Mercedes and Inés have a big argument about the pills. Meanwhile, Carlos thinks he is going to die and his sister too, if she doesn't get an operation in America. But what upsets him most is that he is going to miss two TV programmes. In the grammar notes we highlight impersonal sentences and the use of the «pasiva refleja».