One of the most characteristic things about Christmas in Spain is the belén (Nativity scene), also known as the pesebre (manger), or nacimiento (birth). The belén can be seen in December in many homes and businesses. However, its origin is not Spanish; King Carlos III of Spain brought the tradition from Naples. But the belén is a tradition not only in Spain but also in many Latin American countries as well as Naples, the south of France, Poland…

Portal de Belén
In Cataluña it's traditional to display the figure of the caganer (shitter) doing his business in the fields. This figure is a symbol of fertility and prosperity and is supposed to bring good luck in the year ahead.
You can see Christmas trees in many homes and commercial establishments as well as in public spaces such as plazas and local monuments. They are decorated with garlands, baubles, and lights, with a star at the top.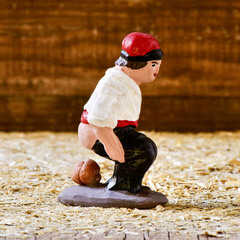 Caganer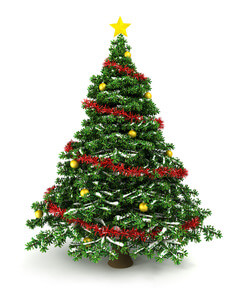 Árbol de Navidad
In Spain Christmas is mainly celebrated the evening of December 24th, the day of Nochebuena (Good Night). The whole family gathers to enjoy a special dinner. The dishes vary according to the region; some people like to full the table with delicious taps, while others prefer a more formal dinner with first course, second course (fish or meat), and dessert. The important thing is to eat something special, something we don't eat often.
Typical sweets in Spain include turrón, mazapanes and polvorones.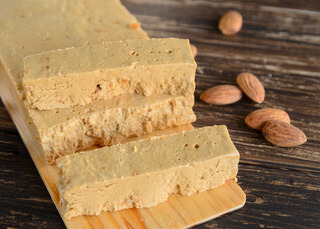 Turron

Mazapan

Polvorones
In Latin America turkey is very popular, and panetón or sweet bread is a typical dessert. But every country has its own traditional foods.
On Nochebuena people often sing villancicos (Christmas carols) accompanied by the tambourine and the zambomba, a kind of drum.

Zambombas y Panderetas – "Ambiente navideño en las calles de Madrid" by M. Martin Vicente is licensed under CC BY 2.0
Speaking of the zambomba, we should mention the Zambomba Jerezana (in Jerez de la Frontera, Cádiz), a popular celebration that has been recognised as a cultural asset. It originated in the 18th century, when neighbours used to meet in the interior patios of their buildings, to sing and to share food and drink.
At twelve o'clock the midnight Mass is celebrated to commemorate the birth of Jesus; however, attendance at Mass is less and less common among Spaniards.
Finally, you probably already know that in Spain gifts are traditionally exchanged not at Christmas but on January 6, the day of the Three Wise Men.