Spanish with TV and movie clips
Learn Spanish with TV and movie clips
Many people find listening comprehension the most difficult aspect of language learning. Our online Spanish courses focus on colloquial language, to help you to understand what native speakers are saying. You will hear Spanish at normal native-speaker speed, and you'll learn many expressions that you can use in order to sound more natural. Our virtual teachers explain the vocabulary, the expressions and some points of grammar that come up in the lessons. They also explain the historical and cultural content, which is just as important as the linguistic content when you participate in conversation with native speakers.
Improve your comprehension
of colloquial Spanish spoken at normal native-speaker speed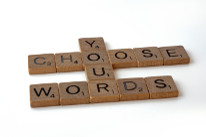 Learn
useful new words and expressions
Become familiar
with various Spanish accents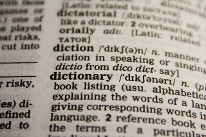 Improve your command
of several grammar points that come up in the lesson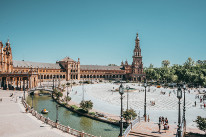 Deepen your understanding
of the history and culture of Spain and the Spanish-speaking world
What's included in each Spanish lesson?
Each lesson consists of the following components:
The videos (5)
You don't need to take notes while watching the videos. You can download a complete transcription afterwards.
Teacher presentation (animated video):

The virtual teacher provides information that will help you to understand the clips. This is followed by a quick quiz based on 5 items introduced in the presentation.

Clip from the movie, subtitled in English:

This version will help you get a general idea of what's going on. But if you prefer, you can skip this step.

Clip subtitled in Spanish:

This version will help to improve your listening comprehension. The subtitles match exactly what the actors say… even if they make mistakes! (It's true, Spanish speakers make mistakes too, especially when speaking rapidly). It's a good idea to watch this version more than once.

Original version:

You will understand this version if you've already seen the version with Spanish subtitles a couple of times.

Conclusion (animated video):

The virtual teacher reviews some of the language from the clips and wraps up the lesson.
List of vocabulary and expressions

Introduced in the lesson, with translations in English.

Transcription

This is a transcription of the entire lesson (presentation, original movie clip with translation, and conclusion). It's a good strategy to read the transcription while listening to the entire lesson, or parts of the lesson, as often as you need until you can distinguish and understand every word. You can also chime in with the audio. This way you can focus on pronunciation, the stress patterns and the intonation of words and phrases in Spanish.

A bit of grammar:

An explanation of a couple of the grammar points that came up in the lesson.
Learning activities (2)
A suggestion: To help you retain everything in your long-term memory, it's a good strategy to repeat these activities a few times over the coming weeks— even if you got it all right the first time.
Interactive tasks: These activities will help you to memorise the words and expressions from the lesson. You can also hear a native speaker pronouncing the words and phrases.
Test yourself: These activities will help you to evaluate your comprehension and your knowledge of the words, phrases and grammar points highlighted in the lesson.
I tried Real Spanish and enjoyed it a lot. You get to learn and practise useful expressions and vocabulary, while learning about Spanish society and culture in an entertaining way. You can use ten minutes to do an exercise, or forget about time and get immersed in the stories and exercises for hours.
I have found the Real Spanish website easy to use and I can learn at my own pace whenever I want. As the lessons introduce phrases that are in use in everyday Spanish, this proves to be more useful than just grammar in text books. By watching and listening to the videos I can improve my skills to understand spoken Spanish at real-time speed. Obviously, being able to pause and replay with or without subtitles enhances my ability to learn.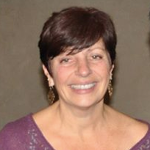 I deeply enjoyed the Real Spanish website. Having been gifted the Rosetta Stone, I can say there is no comparison. Real Spanish's fun, entertaining and relevant content kept me engaged and was instructive in culture as well as language.
I felt the site was well-organized keeping me focused and I relished my time with the tv clips etc. The whole experience was delightful,
a sentiment not often used when trying to acquire and learn a second language with online sites.