Many learners who have studied Spanish to B1-B2 level still have trouble understanding and conversing with native speakers, or watching TV programs and movies. Real Spanish can help you meet their needs, using engaging video content and other materials.
You can use our online Spanish courses and mini-lessons with intermediate-advanced classes or in private lessons (face-to-face or online). You'll soon see that their listening comprehension improves, they feel more confident talking to native speakers, they sound more natural, their vocabulary expands, they deepen their understanding of grammar structures, and are more able to use a wide variety of useful expressions.
What is Real Spanish?
Our video-lessons based on clips from TV shows and movies focus on authentic colloquial language spoken at normal native-speaker speed. As well as the videos, each lesson comes with PDFs and interactive tasks.
We also offer interactive pronunciation lessons which help students to improve their pronunciation and tune their ears to the sounds of Spanish.
You can also use "Real Spanish in Minutes" with your students. Some of these these mini-lessons consist of excerpts from our full-length lessons. Others focus on interesting aspects of language such as the many uses of common words like «leche» or various ways of expressing surprise, anger, rejection, etc. Some mini-lessons explain words that can be confused, such as "false friends" or words that change meaning according to gender, such as «el frente» and «la frente». Some mini-lessons deal with grammar points while others focus on the history and culture of Spain and other Hispanic countries.
You can also use our blog entries in class, or students can read them at home. They can also view our mini-lessons on our YouTube channel!
As well, we offer several examples of how to use the materials on Real Spanish with your students. Click below to view or download them.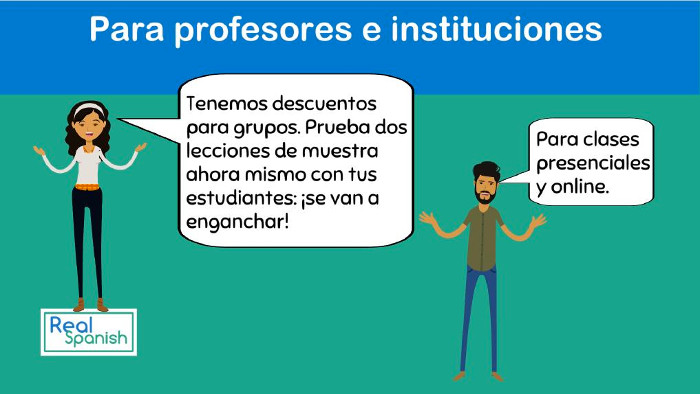 Click below to see all our materials.
Try some free sample lessons with your students right now!
We offer a discount for groups of 5 or more.
Real Spanish is a work in progress. With the individual subscription, you get permanent access to all the material now available on Real Spanish, as well as to all new material as it is published. Alternatively, if you teach courses that last only a few weeks or months, you can buy courses individually, choosing the cours(es) according to the needs and interests of your students.
We would also like to know how you have used our online Spanish courses. You can also send us your own suggestions and ideas for the use of the materials. We will publish them here to share them with other teachers. And if you see anything we should change, or correct, let us know!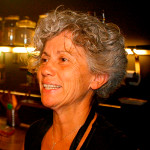 It is great to finally find a method of teaching Spanish at an advanced level. For all those students who want to expand and improve their use of the language Real Spanish offers a flexible, engaging and effective method. The conversations chosen as a basis for the lessons are an excellent approach to the real use of our language and culture. I will recommend Real Spanish without hesitation to the foreign students in my cooking courses for Spanish learners. It is a very useful platform for those who are interested not only in learning Spanish, but also in becoming familiar with Spanish society and recent history.
Sol, Spanish teacher: Spain