All Saints day

is celebrated throughout Spain and in most Latin American countries.
These days Spain is a secular country, but this date is still important in Spanish culture. On this day many families, Christian or not, commemorate their ancestors and all their loved ones who have died. Many go to the cemetery to clean and decorate the tombs or niches where they are buried. In all the churches there are special masses, and the cemeteries are filled with colourful flowers.

Nichos
It's not a very sad day. It is certainly a day of reflection, but at the same time a celebration of the lives of the dead, even with a bit of humour. People celebrate by eating a sweet known as "saints' bones" because of their shape and colour. They also make other sweets such as panellets. These are typical of Catalonia and are made with almonds, which are harvested at this time. In the street, you can also buy roasted chestnuts and sweet potatoes.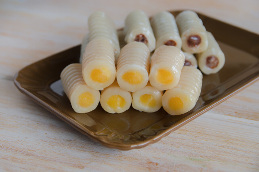 Huesos de santos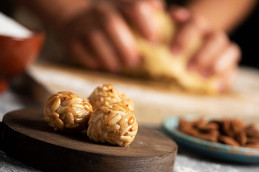 Panellets

Castañas asadas

Boniatos
In Latin American countries this day is celebrated in different ways. In Mexico it was celebrated before the arrival of the Spanish; that is, it's a Pre-Columbian ritual. In Pre-Columbian Mexican culture, there was a practice of preserving the skulls of the dead and displaying them during the rituals that symbolised death. These days people make sweets in the shape of skulls, eat "bread of the dead", and set up altars with candles and offerings such as plates of food.

Calaveras mexicanas

Pan de muerto
These days Halloween is increasingly celebrated, but it is not a traditional celebration of the Hispanic world.

Truco o trato